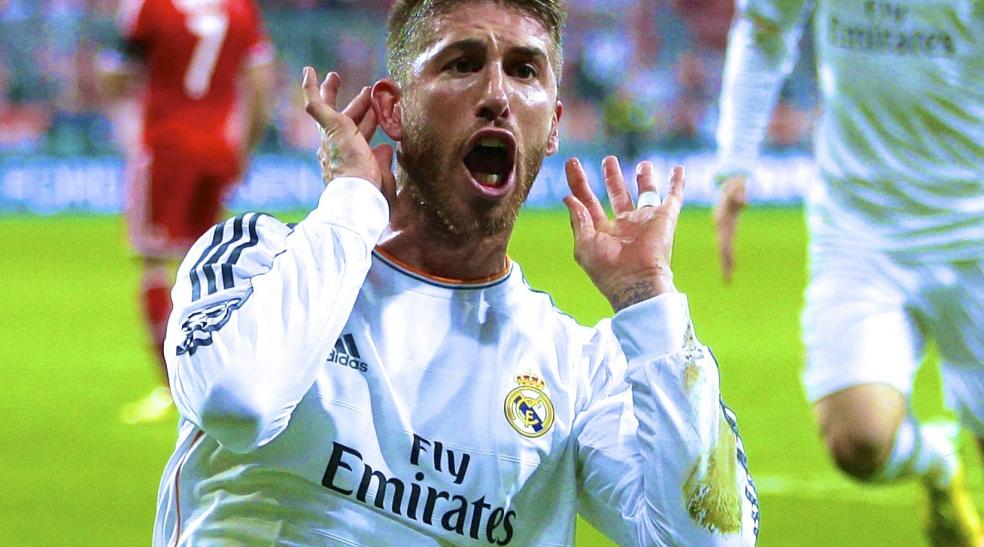 Holders Bayern Munich were left stunned as Real Madrid powered to an emphatic 4-0 win at the Allianz Arena, booking their place in next month's Champions League final.
One dream is over, but another is now one tantalising step away from finally being realised.
Bayern's ambition of becoming the first club to successfully retain Europe's most prestigious prize (at least in its current form) was effectively ended when Sergio Ramos scored the second of his two goals after 30 minutes; with Cristiano Ronaldo's sweeping finish 15 minutes later ensuring Real will be in Lisbon on May 24 with the chance to win "La Decima"—the tenth European crown—that everyone associated with the club craves.
The reigning Ballon d'Or winner then scored from a free-kick in the final minutes to complete the rout.
It's 12 years since the notion of that landmark Decima was formed, after Real won their ninth title in 2002 thanks to Zinedine Zidane's remarkable volley, but many will now expect the dream to become reality this year.
Real will almost certainly be favourites to win in the final, regardless of whether Chelsea or Atletico Madrid come through Wednesday's second final.
Regardless of who they face, Carlo Ancelotti's men will be full of confidence, having won both legs of their semi-final (winning 1-0 at the Santiago Bernabeu) and completing a convincing 5-0 aggregate triumph thanks to some clinical counter-attacking.
The one sad note for the side will be the absence of Xabi Alonso, who cut a disconsolate figure as he picked up a booking and a suspension for a clumsy first half foul after his side were already three goals to the good.
The hero of the hour, Ramos, was also just one yellow card away from missing the showpiece but—despite riding his luck at times—he was withdrawn with over 15 minutes remaining to ensure he did not have to experience Alonso's missed feelings.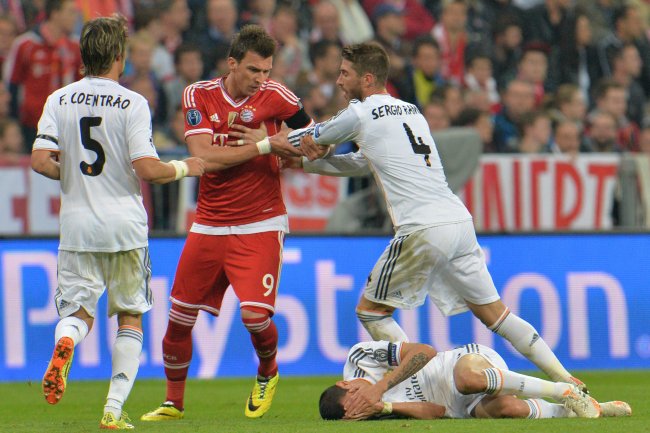 Kerstin Joensson
It was the defender who decided the game inside the first 20 minutes. With the visitors a goal ahead thanks to Karim Benzema's clinical finish in the first leg, Ancelotti's side had little incentive to come forward against Bayern; instead opting to play almost a conventional 4-4-2 with Gareth Bale and Angel di Maria sitting deep and wide and Ronaldo operating almost alongside Benzema.
Pep Guardiola, perhaps anticipating this approach, made one change from the side that lost in Madrid—bringing the slippery Thomas Mueller in for full-back Rafinha, with Philipp Lahm dropping back into the defence.
The game therefore started in predictable fashion, with Bayern passing the ball around at will and Real looking to counter-attack at lightning speed whenever the opportunity presented. That was how the first chance was created—Bale spooning over from 35 yards after Bayern goalkeeper Manuel Neuer had been forced into a hurried clearance by the pressing Benzema.
Five minutes later, Real had their lead. A corner was forced and Luka Modric, impressive in both legs, swung it in, with Ramos rising highest to power the header beyond the rooted Neuer.
Suddenly Bayern needed three goals if there were to reach the final—although it was soon to get so much worse.
This time it was a free-kick, not a corner, but the result was essentially the same. Di Maria curled in a beautiful delivery and Pepe nodded it perfectly into the path of Ramos, who found the same corner by the same method to effectively seal his side's passage.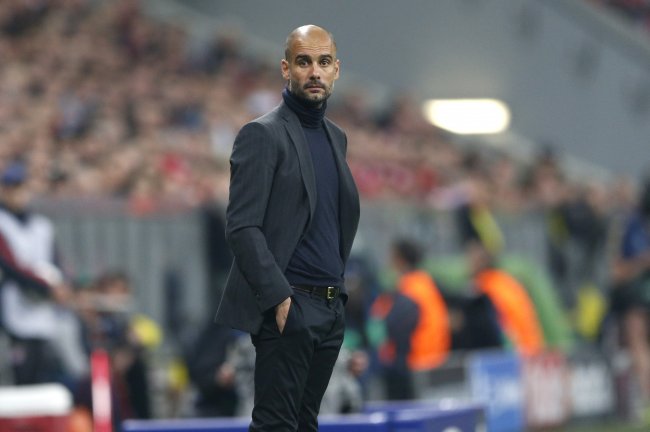 Matthias Schrader
Bayern continued to try and create openings through weight of possession and patience of passing, but Real looked focused and enervated by their start and soon enough the tie was put to bed.
It was a goal of brilliant athleticism; the away side bringing the ball forward brilliantly before Bale slipped Ronaldo clean through on goal, the Portuguese just slipping his side-footed shot under Neuer's outstretched hand.
When the two teams returned for the second half Guardiola made one change, withdrawing the ineffective Mario Mandzukic for Javi Martinez, a move perhaps intended to push Mueller further forward and ensure his side better retained the ball as they now tried to break down a side destined to park the bus.
Bayern created their chances—Franck Ribery forcing a good save from Iker Casillas, and Arjen Robben and another substitute, Mario Gotze, both going agonisingly close with ambitious efforts—but could never find the one goal that might, optimistically, have given a glimmer hope of a historic comeback.
Yet as the clock ticked on their commitment waned, and Real began planning for the final. Ramos was withdraw, with Benzema and Di Maria (for defensive-minded replacements) soon following.
In the closing stages, with the fans pouring away from the stadium, Real could even go forward without fear of reprisals.
In a moment that summed up both side's evenings, one of those attacks granted a final goal. Modric won the free-kick and Ronaldo—who else?—took it, firing his shot under the jumping wall to complete a memorable beating.
Bayern, who embarrassed Barcelona in similar circumstances last season, could have some qualms about the final scoreline, but not the ultimate result.
Real Madrid are in the Champions League final, in fully deserved fashion.