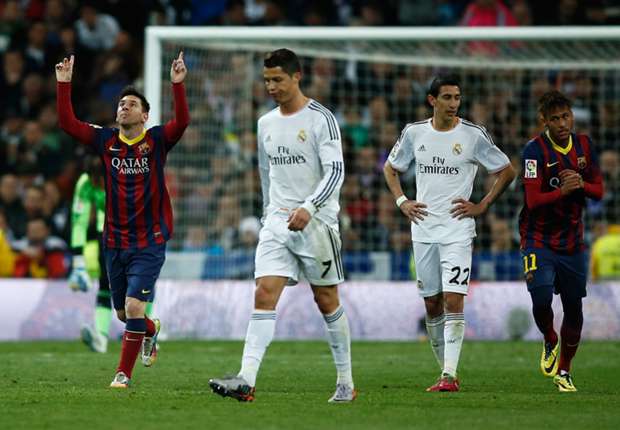 The inquest continues. While Real Madrid still feel aggrieved at refereeing decisions in Sunday's
Clasico
defeat to Barcelona, the truth is that Carlo Ancelotti's side have been unable to produce the goods against their title rivals this season. And ultimately, failure to beat both Barca and Atletico could cost them La Liga.
The 4-3 loss at home to the Catalans on Sunday was Madrid's second disappointment at the hands of their eternal enemies this term, having also gone down 2-1 at Camp Nou in October. And although Ancelotti's men dispatched Atleti with ease in the Copa del Rey semi-finals (4-0 at home and 2-0 away) last month, they suffered a damaging defeat at the Santiago Bernabeu to Diego Simeone's side in La Liga (0-1) and could only manage a 2-2 draw at the Vicente Calderon earlier this month.
That means Madrid have conceded valuable points to their title rivals in the race for La Liga. Perhaps worse than that, however, is the fact that if Real finish level on points at the end of the season with either Barca or Atleti, they'll lose out in both cases due to their inferior head-to-head record with the other two teams.
Should Madrid go on to win the title (and they remain favourites) outright, they'll hardly care. After all, Barcelona won La Liga last season despite not beating Madrid in either of the two
Clasico
clashes in the Primera Division. And in any case, there is another one yet to come in the final of the Copa del Rey next month.
However, there is little doubt that those poor results have ultimately let both Barca and Atleti back in the race.
"I'm not happy with this," Ancelotti said on Tuesday. "It's difficult to explain what happened [in the league games against Barca and Atletico] because we are very competitive, one of the best teams in the world - and we are going to show that between now and the end of the season."
"In only one of the four games were we unable to compete," the Italian explained, referring to the defeat at home to Atleti in September. "We had problems and we deserved to lose. We played very badly. Also in the first half at Camp Nou, but the last two games [the 2-2 draw at the Calderon and the
Clasico
on Sunday] have been even."
Asked on Sunday if he was concerned by his team's sub-standard return against their two top-quality adversaries in La Liga, particularly with Europe's finest lying in wait in the Champions League, Ancelotti was bullish.
"I'm not worried about it," he said. "We went 31 games unbeaten, the team has shown quality and we did in this game as well. The league is open for all three teams."
Privately, however, Ancelotti will be frustrated to see his team take only one point from a possible 12 against their two title rivals and if Real do go on to lose La Liga from what had looked like a commanding position just several days ago, it will be in those games where the title will have been lost.