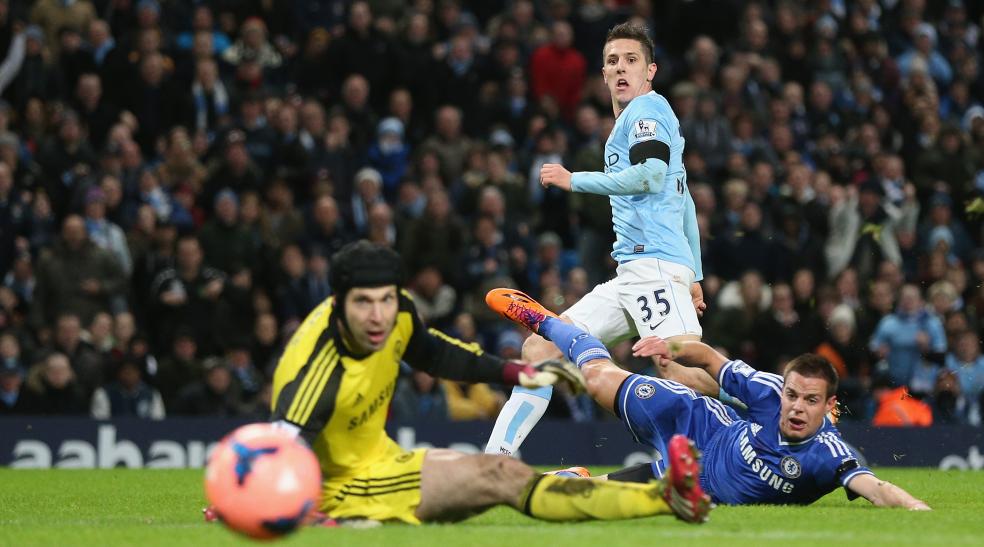 Manchester City gained revenge over Chelsea with a 2-0 win to book their place in the
quarter finals of the FA Cup.
City were comprehensively outplayed by Chelsea in the league recently, but the tables were turned in some style by Manuel Pellegrini's men.
The home side made a sharp start and on 16 minutes they went close to taking the lead.
A fierce drive from Yaya Toure was spilled by Petr Cech. Stevan Jovetic reacted quickly to latch onto the loose ball, but his shot clipped the top of the bar.
Within a minute, City were in front. Edin Dzeko delivered a pass into the path of Jovetic and he stroked the ball beyond Cech and in off the far post.
Chelsea's response was limited and they fell two behind on 67 minutes. David Silva beat the offside trip and slipped a pass into the path of the Samir Nasri, who marked his return to the team following five weeks out with a simple finish.
City's attentions can now turn to the Champions League, with the small matter of a meeting with Barcelona on Tuesday.
For Chelsea, they are not in Champions League action until the following week, with their focus now shifting to a home game against Everton in the Premier League.
Vincent Kompany spoke to broadcaster ITV immediately after the game and he has admitted City were looking for revenge.
It is a big win against a strong team. We love the FA Cup; it was a great game for the FA Cup and we are delighted with the result.

12 days ago we had a really bad game, we gave them a lot of chances. We also created a lot of chances that day; we adapted and it was comfortable.

We wanted revenge today. From the word go we were strong in the challenge. We created chances; we did not give any chances away.