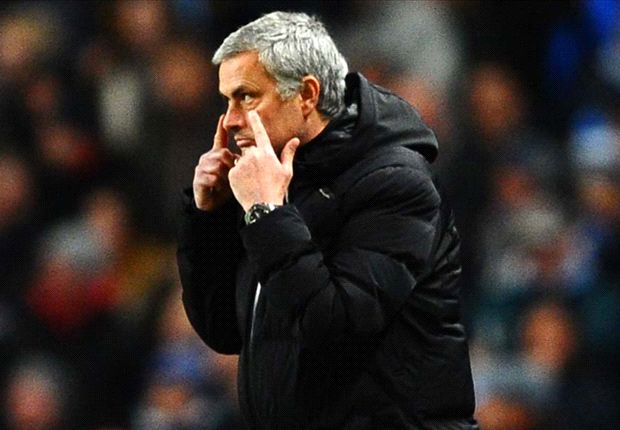 The Blues looked to be heading four points clear of Manchester City at the top of the table, but then dropped deep and were eventually pegged back by a late Victor Anichebe header
Jose Mourinho has blamed Chelsea's 1-1 draw with West Brom on a "lack of personality" from his players.

The Blues went ahead in the first half thanks to Branislav Ivanovic, but succumbed to a late equaliser from Victor Anichebe which denied them a four-point lead at the top of the Premier League table.


And Mourinho says his team as a whole were to blame for dropping too deep and letting the Baggies back into the match.

"The attacking players stopped playing and they gave the chance to the opponents to feel more comfortable and to feel no fear and to push up," he told reporters.

"At the same time my defensive line started to play too deep, too [far] back, we gave them the ball and we were just waiting for them to put the ball into the box and to try to fight against it, but that is not our game.

"It is not the way we feel comfortable, so I think maybe also there is a little bit a lack of personality, because we must have the personality to get out and not accept their pressure and not accept to play for so long in our third. The game could perfectly have been 1-0 but I think their goal gives some truth to their performance.

"For 60 minutes, there was only one team, and that team couldn't kill the game, especially in the first 15 minutes of the second half.

"For 10 minutes the game was quiet, and for the last 15 minutes only one team, and that team fought a lot to get the goal and the point, and in the end I think they deserve it.

"We accepted for too long their dominance in the last 20 minutes, we made a couple of defensive mistakes and we were punished. At the end of the day it is one point, it is one more point than yesterday."

West Brom manager Pepe Mel, who is still searching for his first win with the Baggies since replacing Steve Clarke in early January, thinks his side had the chance to beat Mourinho's men.
"If West Brom scored a goal before [we did], for me we could win the match," he said.
"I am proud with my players. For me, it is good to have different halves.
"In the first half there was good defence – only two chances for Chelsea. And in the second half there was good transition between attack and defence, good counterattack and good mentality."
The point edges West Brom above Sunderland and out of the relegation zone on goal difference, and Mel hailed a marked improvement from Saturday's 3-1 loss at Crystal Palace.
"The players and I need a win but this draw against Chelsea, for us, is good because Chelsea is a big team," he added.
"I think the last match, for us, was very, very bad. We needed to work on focus for this match and they next match [against Fulham] is very important too."