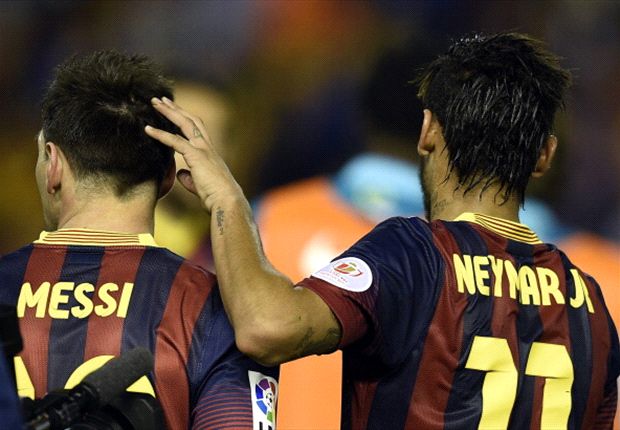 The Catalans are set to end the season without a major trophy after losing the Copa del Rey final to Real Madrid, highlighting the need for sweeping changes at Camp Nou
Perhaps Pep Guardiola was right. Following four fantastic years in which he became Barcelona's most successful coach with 14 titles out of a possible 19 and a style of football envied throughout the world, the former club captain left his job. "I could no longer motivate the players," he said.

Guardiola knew exactly how he wanted to play and set about creating the greatest Barca side in history. Within his first 15 months, he had won it all. But less than two years after his departure, that team is now in disarray.

Badly beaten by Bayern Munich in last season's Champions League semi-finals, when they went down 7-0 on aggregate, Barca were forced to scrap their plan for continuity as Tito Vilanova suffered a relapse of his cancer in the summer.

The Barca board had been powerless to prevent Pep's departure, but picking Vilanova seemed like the next best thing. Instead of addressing the needs of the team, however, Barca were clinging desperately to past glories, papering over the cracks. In denial and in decline, the appointment of Vilanova vindicated president Sandro Rosell as the Catalans claimed La Liga with a joint-record 100 points, but behind the scenes, all was not well.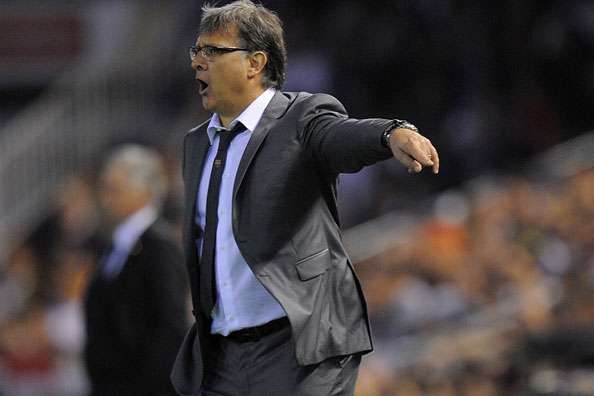 Grey days | Martino looks unlikely to last much longer at Barca
The Bayern debacle was only part of it. In 2012-13, Barca beat Real Madrid only once in five fixtures, lost at AC Milan and scraped past Paris Saint-Germain on away goals. Against the biggest teams, Guardiola's Barca invariably produced their brilliant best. But when faced with similarly tough tests, Tito's team toiled.

Vilanova's appointment was a risk in the first place after Pep's assistant had taken time out for cancer treatment during 2011-12. A relapse before Christmas 2012 meant more time off was needed and this time Barca were left without a leader and with no clear contingency plan.

That hardly helped their cause but equally cannot be used as an excuse. Vilanova's decision to sign Alex Song as cover for midfield and defence is one the club are still paying for. Yet other pressing needs were also ignored and Messi's great goalscoring feats distracted from what was really going on.

So eager to prove themselves post-Pep, some of the missing motivation of which Guardiola had spoken returned and in La Liga at least, all seemed well.

In truth, though, Tito's team had ridden their luck through a number of games in the first round of the Primera Division, with the issues in defence and an ageing midifeld, plus over-dependence on an over-burdened Messi who subsequently suffered injury not especially evident while results remained good.

But the damaging defeat to Bayern brought Barca back down to Earth with a bang, while the 3-1 semi-final loss at home to Madrid in the Copa del Rey was also painful. "Winning La Liga and getting to two semi-finals is still a very good season," Vilanova said. But in reality, only the first half of the season had been positive, with an incredible 55 points from 57 in La Liga. The second part had yielded just 45 and brought lacklustre losses in the cup competitions.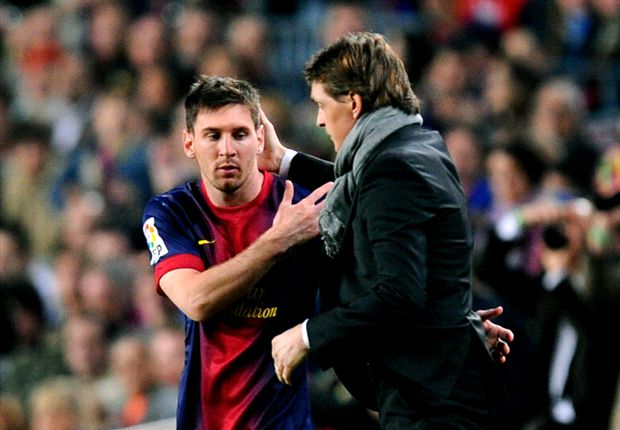 Messi-dependence | Vilanova's side were hugely reliant on the Argentine
When Tito was forced to step down, the Barca board panicked again, this time picking Gerardo Martino as coach. The appointment of the Rosario native and former Newell's boss had nothing to do with Messi nor the wish to keep him happy, the club insisted. But as former Spain midfielder Albert Luque said during a debate on television: "Can you imagine Martino at Barca if Messi wasn't there? Impossible."

Like Vilanova, Martino started well and for a long time the Argentine coach enjoyed positive results, yet there was a lingering feeling that Barca were not completely convincing - even when they beat Manchester City in the Champions League and won 4-3 at the Bernabeu last month.

And so it proved as, within the space of one woeful week, Barca's season has imploded. The Champions League exit at Atletico was a shock, but more worrying still was the form of Messi and his partnership with summer signing Neymar and their failure to score, which was repeated on Sarurday in the Liga loss at Granada that leaves the Catalans virtually out of contention in the title race.

That saw Johan Cruyff call for the return of Guardiola as coach and the logic is there for all to see as Barca slipped to a third defeat in a row by losing to Madrid on Wednesday. "The best thing for Barcelona is for Guardiola to come back," the Dutchman said this week.


Popular | Guardiola is the most successful coach in the club's history
Would Pep have settled for Barca's insipid first-half performance at Mestalla? Not likely. Would he have allowed Dani Alves to make a video of himself singing and dancing and fooling around in club attire the night before the crucial Champions League clash at Atletico? No way. Would he have bought Alex Song as a solution to Barca's problems in central defence? It's hard to imagine.

One of Guardiola's conditions for staying at Barca was a revolutionary renewal of the playing staff, with several first-team members to be put up for sale. But Alves, Gerard Pique and Cesc Fabregas are all still at Camp Nou and Pep is not.

At Manchester United, Sir Alex Ferguson sold David Beckham because he considered the midfielder was focusing more on off-the-pitch activities than football. Guardiola fell out with Pique for the same reasons, while he grew digruntled with Alves' attitude (as Barca have this season) and was unhappy with Fabregas' commitment to the cause.

But on top of that, this is not the same squad which wowed the world between 2008 and 2011. Captain Carles Puyol is no longer good enough even for this team when there are injuries, when before he was one of the game's greatest defenders, while Xavi remains important but is also a fading force in his twilight years and committed players like Eric Abidal and Seydou Keita are no longer at the club.

Meanwhile, Messi has been injured, Neymar's signing seems to have rocked the boat with the Argentine and others at Camp Nou, and other sides are also now finding out how they can deactivate this team. Additionally, most of these players have won it all and are older now, while poor planning of the squad means there has been no evolution. And, as if that weren't enough, many of the first team seem to be conserving energies for the World Cup.

| | | |
| --- | --- | --- |
| | The best thing for Barcelona is for Guardiola to come back and I think Joan Laporta would sign him again" | |

When he took over at Barca, Guardiola could see the potential in this golden generation and knew the seeds for success only needed planting and then nurturing for great growth to be achieved. He then saw the same at Bayern, where Heynckes' superb side were already the finest in Europe even before they won all their trophies last season.

But as he looks back with interest at Barca, Pep won't be seeing something similar right now at Camp Nou. So will he come back? One day, sure. Will that be soon? No - and why would he want to? With the Catalan club in such a state, a whole new project is needed, not to mention elections and a change at boardroom level. And all of that takes time, so as things stand, Guardiola is better off where he is and even if he did return, there would be no quick solution to the Catalans' crisis.

Follow Ben Hayward on