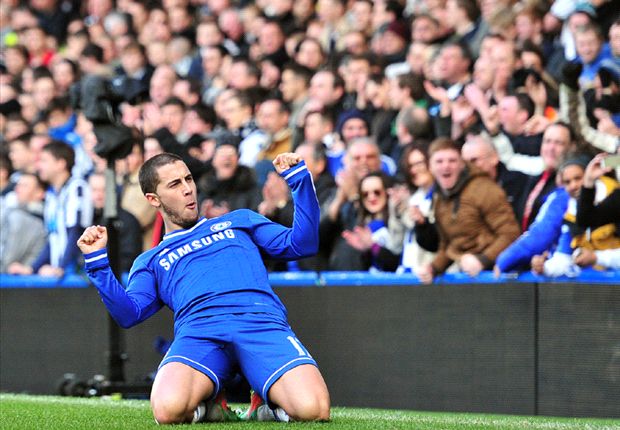 Jose Mourinho believes Manchester City are the favourites for the Premier League title and likened them to a Jaguar.

His comments come after his Chelsea side beat Newcastle United 3-0 to go top of the league, with Eden Hazard grabbing a hat-trick.

The Portuguese boss on Monday claimed the Blues were the "little horse" in the title race after his side beat City 1-0, but he maintains they are still the team to beat.

"It's time to kill the horses," he said. "Manchester City is a Jaguar. You cannot put an 'L' plate on a Jaguar."

Mourinho hailed the "fantastic" form of Hazard who beat Tim Krul twice in seven first-half minutes to put the Blues in control and completed his first hat-trick in English football from the penalty spot when Mapou Yanga-Mbiwa hauled down Samuel Eto'o.

After the match, Mourinho insisted that the Belgian's feats were no more astounding than his other performances in recent weeks and praised him for adding consistency to his game.

"I think it was not different to other performances he had - the only difference is he scored a hat-trick for the first time," the Chelsea boss told reporters when asked about Hazard.

"It was very similar to the one at Hull, at [Manchester] City, at home against [Manchester] United, against Liverpool, at Southampton - basically the same way. He's playing really well, with a big evolution, consistency, ambition ... fantastic."


Newcastle boss Alan Pardew also found time to praise Hazard after a defeat which leaves his side boasting just one win in their least seven matches.

"He's got a great platform because it's a strong base behind him," the Magpies boss added. "The back four were tough, [Nemnaja] Matic in front of them gives the stability for someone like Hazard to create the damage that he did.

"I thought his second goal was real class and he's at the top of his game. His work-rate and everything else was excellent and that's why he's a top player."

Arsenal's humiliation by Liverpool at Anfield and Manchester City's failure to beat Norwich City meant that Chelsea's win sent them to the top of the table for the first time since September but Mourinho was again keen to downplay hopes of the Premier League trophy returning to Stamford Bridge for the first time since 2010.

"I think we are playing well," he remarked. "The first half was not the best example because we had problems but we have been playing well for a long time.

"We are top of the league and that's something we can't hide but I say the same and I feel the same [that Chelsea are not favourites this season]."