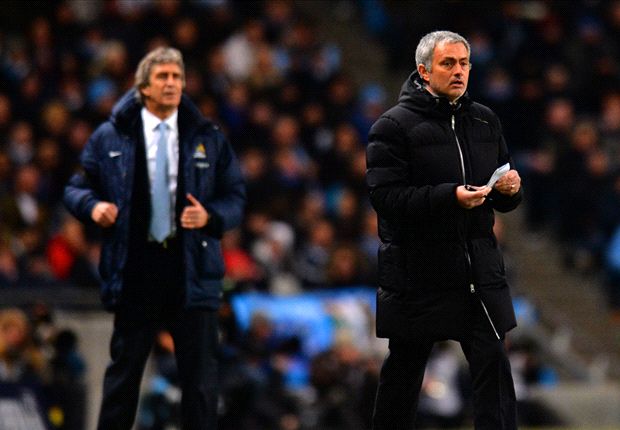 Manchester City manager Manuel Pellegrini has dismissed Jose Mourinho's claim that Chelsea are a "little horse" in the race for the Premier League title.

Despite the west Londoners claiming a 1-0 win at the Etihad Stadium on Monday, Mourinho insisted afterwards that his side were not favourites for the title against much bigger opponents.

But Pellegrini has used Chelsea's massive spending under Roman Abramovich - which continued in a busy January window - to rubbish his counterpart's suggestion that the Blues are outmuscled.


"Maybe it is a small horse if the manager thinks like that. It can be a little horse, but very rich," the Chilean told reporters ahead of City's clash with Norwich.

"This is the team that has spent most money in the last 10 years, is the team that spent most money this year and the team that spent the most money in the transfer window. So, little - but rich.


"He has shown in the last two games against us he has a strong team with some great players.

"I think he is favourite. He thinks if he wins he will have the merits but if he loses he does not have responsibility.

"It is the way he acts. Everyone acts the way he thinks is better for the team.

"I think it will be very close with Chelsea and Arsenal. Arsenal are the favourites because they have two points' lead in the table.

"Of the 24 games we have played, Arsenal have been top of the table for 16 or 17. They have an important advantage. I am sure the three will fight to the end for the title."

Sergio Aguero, Samir Nasri and Fernandinho have all resumed some level of traning, though it will be touch and go whether they are all fit for the crucial Champions League last-16 tie against Barcelona.

"Samir Nasri is working well. I think that next week he will working with the squad as normal," added Pellegrini.

"He will not be fit for Wednesday, but maybe for Saturday. For Javi Garcia we hope the same.

"Fernandinho is working with the physiotherapist. He will be at least 15 days more. It's difficult (for him to play against Barcelona). We will see in the next week but it is difficult.

"Aguero, the same thing. He's working with the physiotherapist. He's started running but he will not be available for Barcelona."