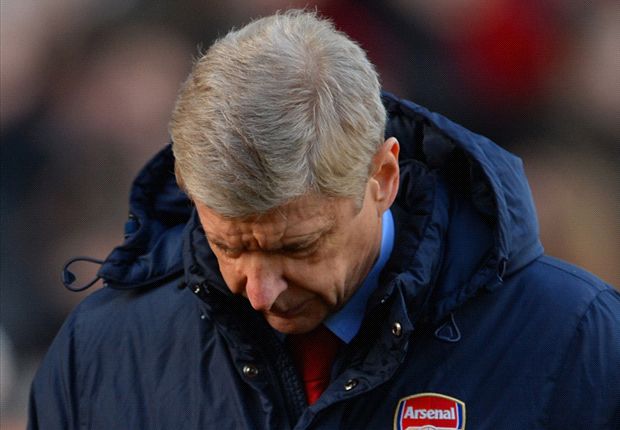 Since the rebranding of the European Cup in 1992, just six clubs have participated in the Champions League group stages more times than Arsenal; Barcelona, Real Madrid, Manchester United, AC Milan, Porto and Tuesday's opponents Bayern Munich. Given that the Gunners didn't enter Europe's premier club competition until 1998, this represents a significant achievement.
Furthermore, only Man Utd and Real Madrid have registered more successive Champions League appearances than Arsenal's 16 consecutive campaigns from 1998-99 to 2013-14. And with United failing to make it out of their pools in both 2005-06 and 2011-12, only Madrid better Arsenal's 14 years of uninterrupted progression from the opening group phase.
"[Our record] provides a massive satisfaction," Arsene Wenger beamed last year. "If you look at how many teams have done that in Europe, you will find very few and that shows it is not easy."



Wenger is, of course, right in that respect but it requires merely the briefest look at the record books to expose the grim truth that his various Arsenal sides have been among Europe's biggest underachievers of recent times.





This is a message the Frenchman is less keen to broadcast, one that lays bare his shortcomings as a coach in Europe and proves that Arsenal's Champions League history is one of failure, missed opportunities and naivety rather than something worthy of celebrating.
Incredibly, Arsenal have won just eight knockout ties under Wenger. Three of these arrived en route to the 2006 final and a further two during their run to the semi-finals three seasons later. That aside, over a 14-year period – during which Arsenal were often handed kind group draws against moderate opposition due to a favourable seedings process - they have successfully negotiated their way through just three knockout rounds.
Crisis-hit Celta Vigo, a side who had just sacked their manager and were well on their way to being relegated from La Liga, were defeated by Wenger's Invincibles, while a horribly ageing AC Milan outfit, who were enduring their worst domestic season in years and whose best player was a 40-year-old Paolo Maldini, were no match for a Cesc Fabregas-inspired Arsenal in 2008.
In addition to being eliminated at the group stage on four occasions (two of these a second group stage), Arsenal have exited the Champions League five times in the last 16 and on four occasions in the quarter finals. Worryingly, Wenger's record shows he is not learning from his mistakes - his record is actually getting worse.
Unless they can somehow conjure up a miracle and overturn a 2-0 first leg deficit at a seemingly unbeatable Bayern side that have not lost a Bundesliga match in 17 months, Arsenal are set to bow out at the last 16 juncture for a fourth straight season.
Admittedly, during this time Arsenal have faced Bayern twice, Pep Guardiola's Barcelona and a Zlatan Ibrahimovic-led Milan – but you can't explain 16 years of disappointment by blaming bad luck, nor through Wenger's reluctance to use the transfer market as a tool to tweak and enhance his squad.
Wenger needs to look at himself. Much has been said about the Frenchman failing to win a trophy of any kind for nearly nine years, but since the day he was appointed at Arsenal in 1996 his preoccupation with playing football "the right way" has not been conducive to succeeding in Europe.
In continental and international knockout football, naivety and predictability are punished ruthlessly. The most successful coaches of the Champions League era – the Jose Mourinhos, Carlo Ancelottis, Sir Alex Fergusons and Jupp Heynckes' of this world – have understood that a team needs to be tactically flexible and contain technical, physical and mental elements.
Arsenal have lacked the last two qualities ever since Patrick Vieira, Sol Campbell and the last remnants of George Graham's back four departed or retired the best part of a decade ago.
Wenger has been stubbornly one-dimensional and has steadfastly refused to tweak his system – both before and during games - to counter the style of an adversary. His teams almost always play open, attacking, expansive football, making it very easy for top European coaches to outmanoeuvre the Frenchman.
Only one season, in 2005-06, did Wenger abandon his principles. It's no coincidence that, fielding a conservative 4-5-1 with Thierry Henry as the lone frontman, Arsenal made it all the way to the final. They defeated the Madrid
Galacticos
and a Juventus team that contained seven of the 2006 World Cup finalists on the way to a heart-breaking late defeat to Barcelona in Paris.
Even that season, Wenger's utopian hand was forced by a glut of injuries ahead of the historic last 16 win over Madrid at the Bernabeu. He had little choice but to be less adventurous and when the ploy worked, he stuck with it for the rest of the campaign. The following season Wenger reverted to type and Arsenal were eliminated by PSV in the last 16.
Wenger once confessed: "I can't imagine my life without winning the European Cup". Sadly, his Champions League career is almost certain to end without him lifting the trophy. For no matter how many more years Arsenal proudly qualify for and progress through the group stages, you can always bet on them losing once the knockouts come along.