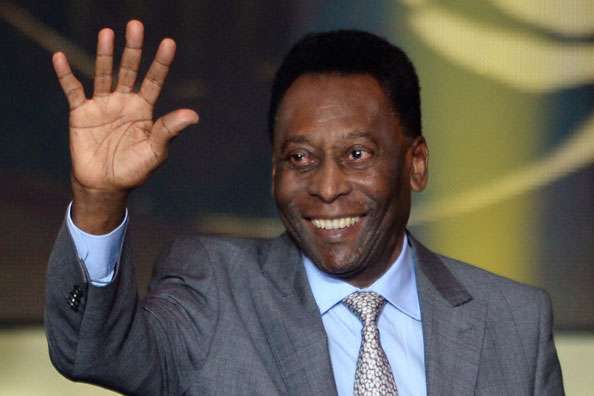 The Brazil legend says there are two different versions of the Barcelona star, while tipping Neymar to make a big impact at the World Cup
Pele says
Lionel Messi
is not as good for
Argentina
as he is for
Barcelona
as a result of a lack of understanding with his international team-mates.
Messi has been criticised throughout his career by those in his homeland, who believe he tries harder in
Blaugrana
colours than the blue and white of his nation, though Pele is certain there is another reason behind his differing form.
"When you see him playing with Barcelona, he is Messi, but when you see him playing for Argentina, he is another Messi," the 73-year-old told
Marca
.
"With Barcelona he is surrounded by two or three excellent players like Xavi and [Andres] Iniesta to help him. With Argentina it is different because it is more difficult to connect with his team-mates. It's a completely different Messi."
The Brazil legend then turned his attention to Neymar and praised his decision to join Barcelona last summer as the perfect move to prepare himself for the World Cup this summer.
He added: "It's his first World Cup and no one knows exactly what's going to happen. It's a big responsibility for him.

"He was very good at Santos, but his best decision was to go and play in Spain, in Europe. For Brazil, it's like he's gone off to university for six months. He'll gain experience and that'll be fantastic for him."
The three-time World Cup winner added that he feels confident Brazil can win the World Cup on home soil thanks to the leadership of coach Luiz Felipe Scolari and technical director Carlos Alberto Parreira.
"In Brazil we had one of the worst experiences in the 1950s when the World Cup was held in Brazil and we lost to Uruguay," he continued.
"People fear the same thing happen, but I think this time it will be different.

"We have to be careful and respect other teams, because there are two or three good teams: Germany is a very good team and we have to respect Spain because they have been playing together for eight years.
"I think one of the good things we have now is that both Scolari and Parreira have experience and that's great for Brazil, because they have already gone through these situations and they can tell the players what they have to do.
"I'm very confident, especially as Parreira was there in 1970 [as a member of the coaching staff] with the best team that Brazil has ever had."