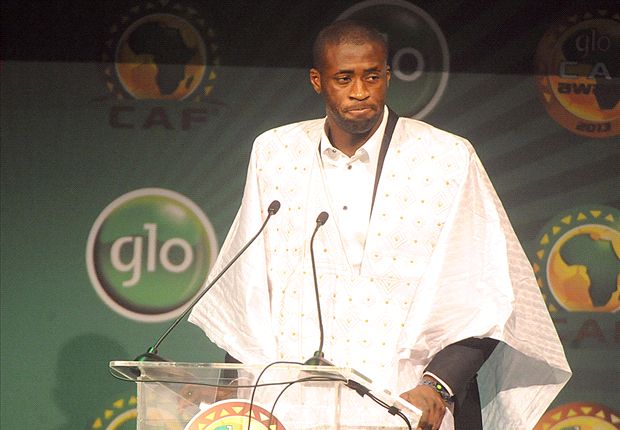 ANALYSIS
By Lolade Adewuyi

Thursday's emergence of Cote D'Ivoire's Yaya Toure as African Player of the Year for the third successive time was always expected.
According to the figures released by CAF after the ceremony, the Ivoirian was always favoured to retain his crown ahead of challengers John Obi Mikel and Didier Drogba.
Out of the 41 coaches (or head of technical departments) that voted, the Manchester City midfielder was never under threat of being dethroned as they unanimously chose him for his consistency in 2013.
Even though the Ivoirian won nothing with club and country, according to Africa's top coaches, his performances were more consistent than those of the other contestants.
In an exclusive interview, Burkina Faso coach Paul Put told Goal that even though Mikel led Nigeria's title winning squad at the Africa Cup of Nations, the major tournament that was thought to be the yardstick for the award, his performances at his club were not strong enough.
"The three [finalists Mikel, Yaya & Drogba] were superb in 2013 but to be honest with you, Yaya was the best because he was outstanding for both club and country," Put told Goal.
"I could have rooted for Mikel to win but not at the expense of Yaya who added goal scoring responsibilities to his dominance in the midfield of his country and club and put up man of the match performances too," he said.
Like Put said, many of the coaches who voted in this year's poll were won over by Yaya's performances at Manchester City where he has scored nine goals so far in the Premier League.
The coaches voted for the final 10 nominated players on a scale of one to 10 points, with the highest score being their top vote.
HOW THEY VOTED | Africa's Top Ten
| | | | | |
| --- | --- | --- | --- | --- |
| 1 | 2 | 3 | 4 | 5 |
| YAYA TOURE | JOHN OBI MIKEL | DIDIER DROGBA | JONATHAN PITROIPA | PIERRE-EMERICK AUBAMEYANG |
| 373 POINTS | 265 POINTS | 236 POINTS | 202 POINTS | 202 POINTS |
| | | | | |
| --- | --- | --- | --- | --- |
| 6 | 7 | 8 | 9 | 10 |
| VINCENT ENYEAMA | EMMANUEL EMENIKE | ASAMOAH GYAN | AHMED MUSA | MOHAMED ABOUTREIKA |
| 199 POINTS | 191 POINTS | 187 POINTS | 181 POINTS | 149 POINTS |
Twenty-eight of the coaches chose Yaya as their top player for the year. To quash the widely held belief that he won due to the strength of the Francophone votes, Anglophone countries like South Africa, Sierra Leone, Tanzania, Malawi, Liberia and Swaziland gave him their votes.
The other coaches that chose Yaya included those of Cote D'Ivoire, Senegal, Cameroon, Chad, Ethiopia, Somalia, Mauritius, Eritrea, Djibouti, Comoros, Tunisia, Morocco, DR Congo, Mauritania, South Sudan, Madagascar, Seychelles, Guinea, Rwanda, Burundi and the Lusophone countries Angola, Mozambique and Cape Verde. This is evidence of his wider appeal.
In contrast, Mikel who according to Put "does not get to play regularly for his club" received top votes from only four coaches. These are Nigeria, Libya, Zambia and Sudan.
Drogba only earned a single top vote from Sao Tome.
Other top ten nominees who got top votes are Mohamed Aboutreika (Egypt, Algeria & Niger), Ahmed Musa (South Sudan), Asamoah Gyan (Ghana & Congo), Jonathan Pitroipa (Burkina Faso), and Pierre Emerick-Aubameyang (Gabon).
Emmanuel Emenike and Vincent Enyeama finished without any top vote. Enyeama was selected second best with nine points by Nigeria while Emenike got six points.
With Nigerians disappointed at losing out, complaint has been made about the awards procedure by president of the Nigeria Football Federation Aminu Maigari who expected Mikel to win the award. He has called for a review of the process.
Perhaps what we need is to see our players giving up greater performances at their clubs as much as they do for their national teams.
That would surely make the scene more competitive.